Stand with Ukraine. Save peace in the world!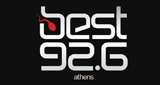 Best Radio
The Leading Radio Station for Alternative & Electronic Music.
Best Radio reviews
It Really Is !

Julie Plastira

17.04.2022

Εξαιρετική μουσική! Μπράβο!!

best

Van Sof (ΑΛΕΠΟΥ)

09.12.2021

καλη μουσικη αλλα ,στο μπανερ, έπρεπε να έχει και το κομματι που παίζει, αλλα δεν....... Βαλτε τιτλους Βρεε... χαχαχα

Ο ΣΤΑΘΜΟΣ BEST ΠΑΙΔΙΑ ΠΙΘΑΝΟΝ ΝΑ ΜΗΝ ΕΧΕΙ ΕΤΟΙΜΕΣ ΛΙΣΤΕΣ ΚΑΘΩΣ ΠΑΙΖΟΥΝ ΠΑΡΑΓΩΓΟΙ LIVE, ΓΙΑ ΑΥΤΟ ΚΑΙ ΔΕΝ ΕΜΦΑΝΙΖΕΙ ΚΟΜΜΑΤΙΑ ! ΜΟΥΣΙΚΑΡΕΣ !!

Dimitris Mexis

13.08.2020

Ecxelend By deference Radio 📻 chillHouse

Παίρνεις να ρωτήσεις ποιο κομμάτι παίζει και βγαίνει ένας άσχετος και σου λέει άλλα αντ' άλλων. Απαράδεκτοι

Καμιά ενημέρωση για λίστα κομματιών. Αδύνατο να βρει κάποιος ποιο κομμάτι παίζει τώρα.

ГАЛИНА КОРНИЛОВА

16.02.2020

I love you

Πολύ καλό !!!
Radio contacts
https://www.instagram.com/bestradio926/