Stand with Ukraine. Save peace in the world!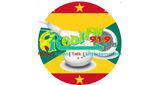 Real FM Grenada
We at Real 91.9 fm are dedicated to changing the recreation activities in the island Grenada. Our vision is to become widely known and respected as one of the best places to relax and have fun anywhere.
Show more
TOP songs on Real FM Grenada
Information about the radio
In order to achieve this goal, Real 91.9fm critical success factors will be to identify emerging trends and integrate them into Real 91.9fm operations, respond quickly to technology changes, be there early, provide high-quality services, continue to invest time and money in marketing and advertising, continue to expand into specialty markets, and stay ahead of the "industry curve."

By focusing on its strengths, its key clients, and the underlying values they need, Real 91.9fm will increase sales tremendously in the next three years, while improving the gross margin on sales cash management and working capital.

This plan leads the way. It renews our vision and strategic focus: adding value to our target market segments in our local market. It also provides the step-by-step plan for improving our sales, gross margin and profitability.

Our objectives include increasing revenue, increasing marketing efforts, expanding the market area, expanding marketing reach and brand recognition.

Our Mission at Real 91.9 fm is to provide a progressive, trustworthy and quality product in Recreational and informative programs that will be at the forefront in the industry. We will procure clean, high-demand atmosphere that will provide many happy moments of trouble-free enjoyment for all our customers.
Radio contacts