Stand with Ukraine. Save peace in the world!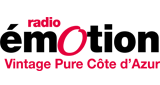 Radio Emotion
Des plus grands standards français aux meilleurs internationaux des années 60 aux années 80. Radio Emotion, première radio dans le cœur des azuréens ! Retrouvez aussi les infos, les cadeaux Emotion et les idées sorties sur la Côte d'Azur.
Show more
TOP songs on Radio Emotion
Radio Emotion reviews
je me règale car j'ai un peu de la cote d'azur dans les ecouteurs

Замечательное радио.

Paulo Henrique Correa

13.02.2021

Ouço vocês diariamente e gosto muito. Parabéns.

cool comme radio

Toujours les mêmes rengaines qui repassent en boucle. Des titres à base de gémissements, hurlements qui tapent dans les oreilles .

Folly Prudenzio

26.11.2019

Radio Emotion

Bonjour je viens de vous appeler, vous êtes au top, continuer sur la lancé .

Mauricio Lujan

18.04.2019

soy mexicano y vivo en el estado de México. encontré su estación de radio en internet desde hace casi un año . desde entonces, su estación me acompaña en el auto, en el trabajo y en casa. la música es fresca, agradable y obviamente totalmente novedosa para un mexicano que nunca había escuchado el pop francés. la música no francesa también es agradable ya que esa si la conozco y es de mi gusto.
Information about the radio
Depuis 2008, une nouvelle station baptisée Radio Emotion a fait son apparition sur les ondes de la Côte d'Azur. Cette radio de style rétro fait le bonheur des nostalgiques qui peuvent y retrouver des titres et des interprètes oubliés des années 1960 et 1970.
Radio Emotion est une station de radio diffusant sur la Côte d'Azur et proposant une programmation composée de musique des années 1950 à 1980, ainsi que les informations régionales.

Cette station de radio azuréenne a été créée en 2008 par Pierre Alberti, le fondateur de Radio Nostalgie et de Contact FM.

Sur cette radio qui cible les quinquas et les seniors, on retrouve d'anciens animateurs de RMC comme Max Lafontaine.

Radio Emotion propose une programmation de chanson française, anglo-saxonne et italienne des années 1950 à 1980.

Dans la veine rétro, cette radio fait la part belle à la chanson populaire et rediffuse des titres et des interprètes oubliés.

Cette programmation ravit naturellement les quadras et quinquas nostalgiques des années 1960 et 1970, qui sont de plus en plus nombreux à être fidèles à cette jeune radio azuréenne.
Radio contacts
Time in Nice: ,