Stand with Ukraine. Save peace in the world!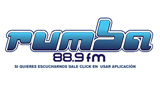 Rumba Stereo
FM RUMBA 88.9, constituye la emisora tropical número uno del centro del país, con lo mejor de la "Música Caliente" Ubicada en Av. Cevallos y Martinez Edif Claro
Rumba Stereo reviews
Gabriela Villavicencio Gallardo

25.05.2023

Excelente todas las programaciones de radio Rumba, Mayra Estrella , el Sr Fernando Acosta , el Sr Darío Fernando, el sr Roberto Freire , y la señorita María Fernanda , todos hacen de la Radio Rumba la mejor gracias por alegrarnos todos los días con sus programaciones Dios los Bendiga

JULIETA VASCONEZ

18.04.2023

Que buen programa de la Mañana con Mayrita me ayudan por favor con el número de contacto

Eres la mejor Mayrita gracias por tener un corazón tan grande tu haces q la radio no solo sea poner música sino dar consejos levantarnos el ánimo alegrarnos y sobre todo cuidar lo que escuchan nuestros niños te envio un super abrazo y sigue asi adelante Att. Daniel Santos

Excelente el programa de Mayrita Estrella desde las 6y30 que me conecto la paso prendida a la radio

Excelente programa, por favor me podrian ayudar con el número de Wathssap del programa de Mairita

Maria Gabriela Cazanas Arteaga

23.05.2017

Felicitaciones al programa..Mil bendiciones continuen asi .Todo exelente la programacion y la musica muy lindo es el complemento noticias ,salud ,deportes ..FELICIDADES. SR.ACOSTA ..Y SR.XAVIER QUEZADA por su profesiomalismo..Exelente ..linda musica ..