Stand with Ukraine. Save peace in the world!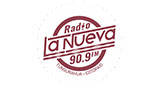 Radio La Nueva 90.9 FM
Una alternativa de información, entretenimiento y comunicación que transmita valores, educación, positivismo, patriotismo y esperanza, desde un enfoque equilibrado de la realidad nacional, el acontecer mundial y el bienestar personal, a fin de aportar al buen vivir (Sumak Kawsay) de la ciudadanía, mediante la selección de programación que se enmarque a las demandas de los principios que regulan la actividad comunicacional.
Radio La Nueva 90.9 FM reviews
Un fervoroso saludo desde EEUU directo a AMBATO de vacaciones y escuchando la nueva 90 .9 porque la nueva me alegra y pone de pie con buen humor, gracias a sus directores por permitirnos dejar un saludo de parte de la artista Jenny Álvarez mil bendiciones a ustedes

luis fernando lechon

09.10.2021

Saludos mashis desde New York, soy fernando lechon gracias por su programa.

Musica variada para todos los gustos, buenos programas una nueva alternativa 90.9 la Nueva Exitos..!!

Jorge Luis Ratoncito

04.02.2021

Muy buena radio.. excelente musica para trabajar todo el día .. sigan adelante

La Nueva 90.9.. Gran variedad...de ritmos musicales Sonando Mejor que las Otras

Patricio Yancha

25.01.2021

Excelente programación.. Adecuado para escuchar en el trabajo, en el hogar entre otros.. Me levanta el ánimo. Felicitaciones..

CHRISTIAN BUENAÑO

21.01.2021

Música para todos los gustos excelente emisora de radio 🎶🎶🎶🥳🥳🥳

Muy buena 👌🎉🎶🥳

Estefania Sanchez

19.01.2021

Buena musica

saludos para Quito a full sintonia