Stand with Ukraine. Save peace in the world!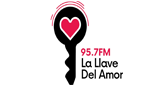 La Llave Del Amor 95.7FM
Radioemisora romántica dirigida a un público adulto contemporáneo con una fina mezcla musical de las mejores Baladas, Boleros, Pop y Rock de las últimas décadas. Transmite desde San Francisco de Macorís para todo el Cibao, llegando a las provincias: Duarte, Hermanas Mirabal, Santiago, La Vega, Espaillat, Monseñor Nouel y Sanchez Ramirez. Somos Emisora oficial de los Gigantes del Cibao (Lidom) e Indios de San Francisco (LNB).
La Llave Del Amor 95.7FM reviews