Stand with Ukraine. Save peace in the world!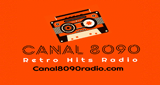 Canal 8090 Retro Hits Radio
¿Porqué nace Canal 80|90 Radio: Retro HITS? La época de los 80s y mediados de los 90s revolucionaron la música, como la escuchábamos y la disfrutabamos junto a la mejor variedad musical de géneros e interpretes inmensos . Al igual que tu, siempre me preguntaba ¿porque las estaciones tradicionales solo se enfocan en un puñadito de esos éxitos como dando a indicar que esas bandas e interpretes lanzaron solamente uno o dos sencillos en lugar de discografías inolvidables y variadas?. ¡Así nace Canal 8090 Radio! Para darte un abanico de la variedad única, diversa e icónica mas allá de un "one hit wonder" o un tema super gastado de las décadas del pelo largo, las guitarras y el New Wave.
Show more
TOP songs on Canal 8090 Retro Hits Radio
Canal 8090 Retro Hits Radio reviews
Information about the radio
Mejor que lo que podrías escuchar por Spotify, Apple Music o Pandora, en Canal 80|90 Radio hemos creado una selección curada de mas de 2,500 temas especialmente mezclados celebrando la diversidad y riqueza de la Década de los 80s: Escucharas temas en Rock, Synth Pop, New Wave, Power Ballads, HiNRG, EuropPop, Raros, re-mezclas y extendidos exclusivos para darle música a tus recuerdos favoritos a cada hora del día de la semana. No te pierdas de los shows que tenemos en programación, y que te llevaran de vuelta a lo mejor de la época del MTV y VH-1. Gracias por celebrar lo mejor de los 80s con nosotros!
Radio contacts
Pide tu canción o visitanos en nuestra pagina Web o descarga nuestra app desde el App Store o Google Play buscándonos como "canal hits radio"