Stand with Ukraine. Save peace in the world!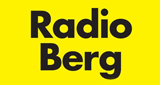 Radio Berg
Kürten, 96.9-105.7 MHz FM
Lokalradio für Oberbergischen Kreis und Rheinisch-Bergischen Kreis. 5h Lokalprogramm. Ansonsten Programm von Radio NRW
Show more
Related radio stations
Show more
Information about the radio
Radio Berg sendet täglich sechs Stunden Lokalprogramm. Dazu gehört montags bis freitags die Morningshow "Am Morgen", (früher: "Hallo Wach") die zwischen 6 und 10 Uhr gesendet wird und das Nachmittagsprogramm "Am Nachmittag" (früher: Drivetime) zwischen 16 und 18 Uhr. Zur halben Stunde kommen Lokalnachrichten von Radio Berg mit Wetter und Verkehrsnachrichten für das Sendegebiet. Am Wochenende gehört "Am Wochenende" (9 bis 14 Uhr) zum lokalen Programm. Außerdem strahlt Radio Berg auf seinen Frequenzen gemäß den gesetzlichen Bestimmungen Bürgerfunk aus. Dieser ist abends von 20 bis 21 Uhr zu hören. Das Restprogramm und die Nachrichten zur vollen Stunde werden vom Mantelprogrammanbieter Radio NRW übernommen. Als Gegenleistung sendet Radio Berg stündlich einen Werbeblock von Radio NRW.
Radio contacts
Fax: 02207 / 701697
Hotline: 02207 / 701666
https://www.instagram.com/radioberg/
https://www.youtube.com/channel/UCB69qjnJam5TyI-nFMtq-nw