Stand with Ukraine. Save peace in the world!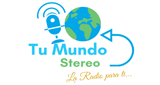 Tu Mundo Stereo
Tu Mundo Stereo, la radio para ti; es una emisora de radio online de contenido variado, de corte musical y deportivo, dirigida a todo público, cubriendo así todos los gustos y preferencias.
Show more
TOP songs on Tu Mundo Stereo
Information about the radio
Tu mundo stereo, responde a su carácter de empresa de comunicación social de servicio público. Ésta cualidad, la obliga a garantizar una información veraz, objetiva, rigorosa, independiente y plural; al igual que un entretenimiento de calidad. A fomentar el debate, la innovación y la creación de ideas; y también a apoyar la difusión de las artes, la ciencia, la cultura y el deporte. Todo ello bajo la premisa de participación y la inclusión de todos. Desde su función de medio de comunicación, tu mundo stereo, mantiene la vocación de convertirse en un referente de la radio en colombia y latinoamérica, ampliando su horizonte a todo el continente y ¿por qué no? Convertirse en una emisora escuchada a nivel mundial, ya que a ser una emisora online no tiene frontera que la limite. Quiere además, estar presente en todos los acontecimientos sociales relevantes y ser un espejo en el que se vea reflejada en toda su variedad y riqueza la realidad nacional e internacional. Realizará su trabajo con criterio estrictamente profesional y atendiendo la encomienda de difundir valores mundialmente aceptados. Tu mundo stereo defiende y promociona en toda su programación los valores constitucionales, especialmente lo de libertad, igualdad, pluralismo y tolerancia sobre los que se asienta la convivencia democrática. Los valores de tu mundo stereo, los marca la ley y se reflejan las conductas morales que tienen los hombres libres y de buenas costumbres. José luis omaña zambrano director general telf.
Radio contacts