Stand with Ukraine. Save peace in the world!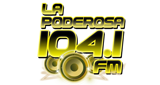 La Poderosa
Santa Rosa de Cabal, 104.1 MHz FM
La poderosa 104.1 en la F.M, una Radio diferente Transmitiendo desde Santa Rosa de Cabal,Colombia.
La Poderosa reviews
Excelente

Victor alfonso Jimenez silva

23.02.2023

Excelente 👌

Lui Espinosa Espinosa

24.06.2022

Hola buenos días, mi nombre es Luisa Espinosa, soy la directora de la emisora Arauna Stereo 104.1fm

EXELENTE HEMISORA POR ESA PROGRAMACIÓN DE LAS 6 DE LA TARDE ASTA 6 DE LA MAÑANA MUY BUENA PROGRAMACIÓN SE LLAMA RUMBA DEL CAFE SALUDOS DESDE QUIMBAYA QUINDIO

Lorena Londoño

04.11.2021

Quisiera saber si puedo enviar una oferta laboral

Saludos desde Washington Seattle a el hno José Luis y hno Adrián bendiciones por su programa de parte de Jacqueline Suárez

Consulo Herrera Arias

14.11.2020

Hola para poner una canción gracias señor por darme tanto

Fabian Andres Zamora Loaiza

10.10.2020

excelente emisora con sus pastores y hermanos q se `reocupan por nuestras necesidades tratando siempre de regocijarnos en nuestro señor Jesucristo .agradezco poner en oración para zafar de mi una dependencia a la heroína y sanidad en mi hogar

buenas tardes jose j zapata ginebra valle

alvaro lavacude

06.09.2020

Excelente programacion, no tengo muchas oportunidades de escucharlos pero disfruto cuando lo hago.