Stand with Ukraine. Save peace in the world!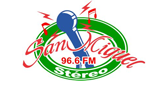 San Miguel Estéreo 96.6 FM
Emisora San Miguel Estéreo 96.6 FM, transmite desde San Miguel de Sema, Boyacá, desde el 12 de octubre de 2007. San Miguel Estéreo, tu nueva compañía.
TOP songs on San Miguel Estéreo 96.6 FM
San Miguel Estéreo 96.6 FM reviews
josé agustín Colmenares

07.08.2021

un amigo mio, que tiene un almacen de discos en la 9 con 19 en el edificio ovni de Bogotá, el popular cocoliso y su negocio musiteca, tiene una copla con la cual le echaba el cuento de amor a sus compañeras de clase, "de pensar en olvidarte, siempre me he puesto a pensar, que pensar en olvidarte ya es no poderte olvidar"

Maria Rodriguez

12.06.2021

"Tilatá", quiere decir "Alegría en el lugar de la labranza" en Muisca.

Oscar Marquez Perez

27.01.2021

Saludos de washington state usa

Martha gutierrez

19.12.2020

Un abrazote Jorge de Antonio y Martha Lucia

William Humberto Posada Estrada

07.11.2020

Muchas gracias por tan bonito programa. Lo disfruté muchísimo. Saludos!!!

oswaldo salinas

23.09.2020

Un saludo uds desde la isla de pascua sigan asi...

Fabian Almonacid

25.07.2020

Saludos andresito, excelente música

William Botero Willy Dj

19.07.2020

Saludos desde Racoon City o Bogota que llaman ,genial programa, para poder saber de los amigos y compañeros y asi pasar un rato muy agradable.

un saludo desde Bogota a la emisora San Miguel Estéreo, y su programa la Enramada... para pasar un sábado muy diverido. Felicitaciones..muy buena energia.

Sintonía desde Cota Cundinamarca, un saludo especial a Jaime Castro por realizar esta clase de programas tan especiales para nuestras tradiciones campesinas, al maestro Jorge Velosa gracias por ser la inspiración de todos nosotros los maestros que con sus canciones conquistamos el corazón de niños , jóvenes y adultos para continuar en el rescate de nuestras músicas campesinas.
Radio contacts
Director: JULIO OMAR BECERRA
Celular: 3114784661