Stand with Ukraine. Save peace in the world!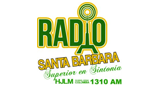 Radio Santa Barbara
Emisora con más de 57 años al aire, que transmite desde el suroeste del Departamento de Antioquia en la República de Colombia, ahora con transmisión en directo vía Internet desde Santa Bárbara Colombia, para todo el mundo, con música exclusiva y nueva programación. Escuchanos en tú radio en la frecuencia 1310 AM. Disfruta de nuestros servicios, promueve tu negocio, promueve tus eventos.
Radio Santa Barbara reviews
Excelente Emisora. Tradición en la región. De gran ayuda para las comunidades sobre todo en nuestro campo. Dios los bendiga por tan noble labor.

buenos recuerdos la escuchaba en Valparaíso donde daban las noticias de la region y era la emisora que escuchaba mi madre en 1980. hoy la escucho en Villavicencio.

Norely Contreras

17.02.2022

Me escanta esta emisora ... todos los días la escucho desde New York .. me ase recordar mi nines cuando vivían en pantanillo ..Dios les bendigan a todos 🙏

Carlos Martinez

11.10.2020

Excelente programación. A esta hora digitalizando memoriales y escuchando radio Santa Barbara, desde Envigado (Antioquia).

jose j zapata ginebra valle buenos dias

Go Far Internacional

16.09.2020

Muy buena radio

Juan Diego Juancho

12.09.2020

la mejor emisora del mundo siempre la escucho todos los dias .reporto sintonia desde la ceja ant.

Me parece una emisora excelente losescucho desde pereira

Jorge Anibal Salazar P.

25.04.2020

Buenos días. Desde hace muchos años atrás cuando era estudiante de primaria y bachillerato en el municipio de Caramanta he sido fiel seguidor de Radio Santa Bárbaro. Hoy gracias al internet puedo tener la posibilidad de seguir escuchándolos donde me encuentre. Atento y cordial saludo, JORGE ANÍBAL SALAZAR PALACIO

Mario Alzate Bueno

03.01.2020

Es una emisora que ha marcado la pauta a nivel regional en lo que respecta a la cultura del pueblo con su información centrada a llevar una educación en todos los aspectos, sigann así y felicitaciones desde el municipio de BELLO ANTIOQUIA.