Stand with Ukraine. Save peace in the world!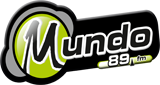 Mundo 89
La radio joven del municipio de Tuluá es Mundo 89. En esta emisora online, que se transmite además por la frecuencia 89.1 FM, los oyentes pueden encontrar una diversa programación diseñada para todos los gustos con espacios de contenido, eventos y excelente música variada.
Show more
Mundo 89 reviews
Marilyn Valencia

15.06.2022

Que pereza siempre en favor del establecimiento,gas ese rodolfo y tanta publicidad por un corrupto.

LEIDY DORANY FLOREZ RIVERA

02.05.2022

Hola buenas noches me gustaria enviar un saludo para Carlos Ramirez de su chiquitina que Dios lo bendiga y que mucho animo, falta poco tiempo para terminar lo mas importante de su vida...

Buenas días, señores Mundo 89. les escribo para pedirles un servicio social tenemos un familiar desaparecido:

buenas tardes josej zapata ginebra valle

MAS UNO SE AMARGA :(

Orlando Rivera Dominguez

01.01.2021

Bendiciones , desde Bogotá , sintonizado con mundo89, extrañando a mi bella Tuluá, saludos a mi familia Rivera dominguez, los quiero y deseo un feliz 2021, att Orlando Rivera dominguez

roberto correa carvajal

27.12.2020

Hola buenos días mi nombre es Roberto correa y hoy gana la mechita 2 a 1 un saludo desde Gerona España

Musicartcompany Mac

16.12.2020

Saludos a todo Mundo 89 , por favor podrían poner la canción BACANO de Fruko y Angelica Lopez, gracias

los super hermanos

24.09.2020

hola mundo 89 puedes poner dance monkey

buenas tardes jose j zapata
Information about the radio
Esta radio se identifica como una emisora crossower, con una misión social especifica "ser el la voz de la comunidad y la compañía en el diario vivir". Mundo 89 es un puente de la comunicación entre la sociedad tulueña y su entorno político-administrativo, procurando a través del dinamismo y la lúdica, brindar entretenimiento, información y comunicación recíproca, como contribución al progreso y la calidad de vida de la comunidad.
Radio contacts