Stand with Ukraine. Save peace in the world!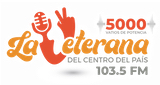 La Veterana
La emisora La Veterana contenidos radiofónicos objetivos e imparciales que permitan formar, entretener y conocer , fomentando y fortaleciendo una sana convivencia desde la sociedad y para la familia.
La Veterana reviews
De la nobleza del ❤️ habla la boca

Jhoban Paez Rojas

18.08.2023

Exelente Doctor Diego Padilla vamos por el triunfo porque el libano lo merese y con usted el libano sera el municipio tan importante que fue hace mucho tiempo

Con respecto al tema del acueducto totalmente de acuerdo, hay que pagar ser honestos,como en las ciudades se paga o se corta el servicio, gracias

Fredy Rodriguez

11.01.2023

Buenas tardes

Nancy Beatriz Mendez Calderon

07.12.2022

Excelente programa, Capera, Caperita, un abrazo gigante en nombre de toda nuestra familia

Irley Buritica

23.08.2021

EXCELENTE PROGRAMACION

Hola buenas tardes amigos de la veterana para saludar ami bella madre i decearle un feliz día de la madre q la amo mucho Maria argenis cadavid desde acá desde Bogotá su hija erika Otavo te amo madre

buenas tardes jose j zapata ginebra valle

Dulce Milenita

15.10.2020

Muy Buenas Tardes, saludos para toda la mesa de trabajo, que hace que esta Emisora llegue más y más a nuestros hogares con la mejor información. Dios les bendiga y guarde siempre junto a todos sus seres queridos.

Jorge Ospina Macias

13.07.2020

un gran saludo para los amigops de LA VERERANA, aqui desde Yopal donde la seguimos a traves de la pagina Web.