Stand with Ukraine. Save peace in the world!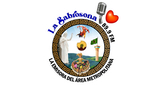 La Sabrosona
Floridablanca, 89.9 MHz FM
Desde bucaramanga santander las 24 horas
La Sabrosona reviews
rodolfo alberto torres medina

26.05.2023

Reportando sintonia desde el Cairo retiro grande Bucaramanga

Saludos a Jhoncito amigo, Prom 2022 Tecnológico sintonizando la sabrosona en el cumpleaños del cacique!

Jose Mora Saavedra

26.05.2023

Jhon amigo mio me vine a escuchar la plata en caseta, saludos desde el batido villaberalcampestre.

ELIZA FERREIRA

20.05.2023

Saludos desde el centro comercial paragüitas

conectada desde la cumbreeeeeeeeeee ... presente. y un saludito al concejal molina.

REINEL Moreno marin

05.10.2022

en sintoniza reynel san gil éxitos

Herlinda Silva Villamizar

01.07.2022

Buenos días en sintonía con la sabrosona desde el barrio el Carmen floridablanca Santader mis bendiciones encantada con su música q Dios me los bendiga grandemente x Fis necesito el número de wassap

JESÚS ORIOL RAMÍREZ SUÁREZ

12.09.2021

Hola compadrito!!! bendiciones en su maravilloso programa, y pidiéndole el favor si puede complacerme con el tema de las embajadores vallenatos "SEÑORA BUCARAMANGA" Regáleme un saludo a la gente de octava y la séptima!!!

Saludos desde tunja escuchando fiesta vallenata

... EXCELENTE PROGRAMACIÓN Y PRESENTACIÓN... MAURICIO CAPACHO " EL MOLE " SALUDOS DESDE BOGOTÁ COLOMBIA...
Radio contacts
Celular: +57 322 2170668