Stand with Ukraine. Save peace in the world!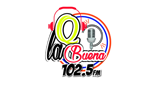 La Q Buena Medellin
transmitiendo desde medellin colombia para Occidente de Antioquia
La Q Buena Medellin reviews
Nelly Patricia Lopera Escudero

16.07.2023

HolA BUENAS TARDES COMO SE LLAMA EL PADRE QUE CELEBRA LA MISA.....

Ěšňĕîđěř Hûřťâđô

20.04.2021

Un saludito para mi hijo angel matias y mi mujer adriana cifuentes desde medellin

Tenemos una excelente emisora Dios los bendiga siempre a todos

Hola para poner que Dios te bendiga para Kelly Jhoana ruiz de parte de su hija y su esposo

diego pino carvajal

21.01.2020

Saludos desde Frontino Antioquia es muy bna la q bna más bna

... EXCELENTE PROGRAMACIÓN... HAY VARIEDAD DE ARTISTAS Y ESTILOS, ÉSO HACE QUE SEA UNA PROPUESTA DIFERENTE EN RADIO... INNOVACIÓN... ASÍ DEFINO ÉSTA EMISORA Y LOS FELICITO POR PENSAR Y ATREVERSE A EXPONER LA DIFUSIÓN MUSICAL DE UNA FORMA TAN SINGULAR ... DE TODO Y PARA TODOS !!!

Jose Dario Vasquez

18.09.2019

Un saludo para mi familia delgado vasquez en Bogotá ..me podría poner un vallenato se llama tirando de elfren delgado

Liliana Maria Perez Alcaraz

18.07.2019

Estamos en sintonía desde acá del supermercado Roldán hermanos cañasgordas.

Sergio Moreno I

07.07.2019

Muy buena excelente programación

Dora Lucia Vargas Zapata

04.07.2019

Bueno si ma desde tarrega y son la una y media de la mañana.