Stand with Ukraine. Save peace in the world!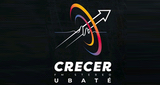 Crecer FM Stéreo
Villa de San Diego de Ubaté, 107.4 MHz FM
La emisora que se toma las calles de Ubaté y Cundinamarca, con la música, los eventos y la programación que estabas esperando. Crecer Fm Stereo es noticias, análisis, artistas y la voz de nuestros oyentes.
Show more
Crecer FM Stéreo reviews
Me gustaría que abrieran un espacio a las fans de música asiática (que les gusta el kpop especialmente) es increíble esta radio. Me gustaría que pusieran la música que revive este verano "Do it like that" Por Jonas Brothers y txt

Escuchando mi va llenaron favorito 💕

Utilizando boñiga semi seca desmenuzela machacandola, despues verter 1 taza de boñiga molida entre la taza del baño o dentro de las alcantarillas. Las bacterias de la boñiga se comen las que producen el hedor dañino para la salud y se reproducen indefinidamente. Asi ud aportará un grano de arena para mejorar su entorno, y podrá vivir en una ciudad que no huela a popó. Una ciudad que no huele a cloaca tendrá gente alegre, venderá mejor sus productos, y atraerá inversionistas que mejoraran la calidad de vida.

Excelente emisora.

Mi gente de Ubaté INFORMACIÓN IMPORTANTE!!! Abrele las puertas a mejores oportunidades laborales, dominando una segunda lengua Empieza a cambiar tu futuro inscribiéndote aquí ->

Julieth Alfonso Giraldo

03.08.2022

Buenos dias.

Patricia Mosquera

27.07.2022

Buenos días para informar fuga de agua en la calle once diagonal al pollito chip desde las dos de la mañana ya se a colocado la queja y llamado al acueducto y nada que actúan el desperdicio de agua es grande nos pueden colaborar.

Salvatore Cesar

24.06.2022

Buenos tardes Mil Bendiciones Para saludarlos super la programación no hay día que no los escuche desde el barrio la estanzuela. gracias por buena información de parte del profesor Augusto César Sandoval

Juan Esteban Gomez

23.03.2022

buenas tardes , Estamos en la búsqueda de un Auxiliar Contable, estudiante de contaduría, tecnólogo contable con más de 1 año de experiencia salario mínimo con todas sus prestaciones

Čristhian Murillo

12.01.2022

Buenas tardes
Information about the radio
Crecer Fm Stereo nació en Ubaté, en diciembre de 1998 como Ubaté Stereo con licencia otorgada por el ministerio de las comunicaciones de Colombia para ejercer la radio comunitaroa.

Años despues, bajo una nueva Gerencia se produce el cambio de razón social y queda registrada bajo todos los parametros legales de radiodifusión como Crecer FM Stereo, en la frecuencia modulada, dial 107.4 Fm. Desde entonces se ha posicionado como una de las emisoras más influyentes no solo de Ubaté sino de toda la provincia, llegando a un alcance en más de 19 municipios de Cundinamrca y parte de Boyacá.

Combinando la labor social comunitaria y diversos medios comerciales, busca el avance y el progreso de cada uno de los sectores sociales, impulsando de manera directa el comercio de Ubaté y la zona centro del País.
Radio contacts