Stand with Ukraine. Save peace in the world!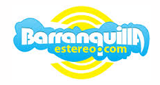 Barranquilla Estereo
Barranquilla, 91.1 MHz FM
Barranquilla Estereo, la primera emisora musical tropical en frecuencia FM que tuvo la ciudad de Barranquilla desde el año 1980, la cual marcó una inolvidable época de la radio popular barranquillera. Dirigida por uno de los grandes estrategas de la radio en la ciudad.
Barranquilla Estereo reviews
Daniel Montiel

05.12.2023

Saludos porfavor, para Ramiro Montes barranquillero que los escucha desde Toronto canada

Desde Caracas Venezuela, Barranquilla Estéreo, única en su estilo y en su clase...

Osvaldo Oliveros

12.09.2023

Buenísima buena música sin tanto blah blaa

desde Quilla la bella, monooooooooo!!!!!

Anthony Pedrozo Villalobos

11.12.2021

desde piedecuesta santander nojodaaaa que tremendo sabor parece que estuviera en quilla y si me pueden complacer con un temazo de joe pastrana hoy sabado con todo mi juniorrr

Orlando Figueroa

07.08.2021

felicitaciones por el ambiente que se siente para los que estamos en el exterior y escuchar BARRANQUILLA STEREO , nos hace sentir en casa VIVA EL TIBURON JUNIOR !!!

Felipe C. Villa Del Río

17.07.2021

Desde Valledupar, full Volumen los Sábados y Domingos. Señal 1A.

Cesar Novoa Buitrago

14.03.2021

Señores Barranquilla Estéreo los sintoniza desde Boyacá.

Rosiris Urueta Molina

13.11.2020

Hola buenas tarde soy la esposa de osvaldo nieto y queremos participar en el concurso de hoy colombia 2 a su favor mi nombre es rosa y saludes

saludos desde cucuta a toda barranquilla raul balza