Stand with Ukraine. Save peace in the world!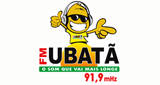 Ubatã FM
Ubatã FM 91,9 O Som que vai mais Longe. Acesse nosso site ubatafm.com.br e saiba mais.
Show more
Ubatã FM reviews
Izaias Bulhões Caló

18.11.2023

Dez izaias botafoguense Bulhoes CALO de São Paulo.ou sinho Ferrari..Nadson Ferreirinha o vida de izaias botafoguense Bulhoes Calo para Maria Soares São Paulo

Arley Oliveira

31.07.2023

Val mecânico que ta em BH manda abraços a todos ae. Só o horoscopo que eu acho paia, mas ta bom também. O apelido dele aqui em BH é Lampião.

WIlliansouza67 Will

09.07.2022

Sou de Coaraci moro em São Paulo manda um alô para meu amigo Gerson da cabana do varejão

Aqui em Luís Eduardo Magalhães BA um abraço pra galera de itapitanga(Genival)

Vcs são D+ qual é Ó número do WhatsApp

Edilson Mendes Edilson

26.07.2021

oi amarerinho manda um alor pra todos do bairro sao cosme aurelino leal

Sou de ilhéus e eu semple to ligado com vc,s

estasmos junto ubata fm eu em cuiaba mato grosso e vc ai na ubata fm arrebentado um oltimo dia

Adinaelsonreis Dossantos

01.03.2021

boa noite ubatn fm parabenz pela programação essa radio é 10 abraço adinaelson reis de são paulo

Lindinalva Jesus Dos Santos

09.07.2020

Só de Ipiaú, moro em são Paulo , sempre q posso, ouso love i love.
Information about the radio
A Rádio UBATÃ FM 91,9 foi fundada em 26 de dezembro de 1987.
Atinge mais de 140 municípios baianos e até de outros Estados, esse alcance fez da UBATÃ FM, uma das mais potentes emissoras do Brasil e a maior potência do interior baiano com transmissor de 25000 KW de Potencia.
Radio contacts