Stand with Ukraine. Save peace in the world!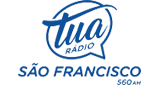 Tua Radio São Francisco
Emissora líder da Rede Tua Rádio, transmitindo via satélite a partir de Caxias do Sul.A Rádio São Francisco 88.1 FM/560AM tem como base de programação o radiojornalismo, a prestação de serviços e o entretenimento. Abrange 24 municípios da Serra Gaúcha e uma população estimada em um milhão de habitantes. Acompanhe 24 horas por dia ao vivo.
Show more
Tua Radio São Francisco reviews
Information about the radio
A Rede Sul de Rádio é pioneira no interior do Rio Grande do Sul a se organizar como sistema de transmissão simultânea via satélite. A tecnologia de ponta no campo da radiodifusão adotada pela RSR totalmente digital, garante um rigoroso padrão de qualidade. As afiliadas recebem pelo satélite em tempo real a programação da Rádio São Francisco SAT de Caxias do Sul, composta pela cobertura jornalística dos fatos do país e do mundo, política econômica, educação, esportes e demais segmentos sociais sempre preservando os valores e a cultura de cada região que alcança. São afiliadas à Rede Sul de Rádio encabeçadas pela Rádio São Francisco Sat: Rádio Fátima de Vacaria,Rádio Garibaldi, Rádio Alvorada de Marau, Rádio Cacique de Lagoa Vermelha, Rádio Cristal de Soledade, Rádio Veranense de Veranópolis, Rádio Maristela de Torres e Rádio Sarandi de Sarandi. Rosario de Serafina Correa, Aurora de Guaporé, Cultura de Campos Novos - Foi inaugurada em março de 1999
Radio contacts
https://www.instagram.com/redetuaradio/