Stand with Ukraine. Save peace in the world!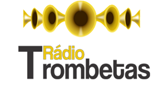 Rádio Trombetas
Como o rádio aberto (FM ou AM), temos uma programação com músicas (em nosso caso louvores), notícias, intervalos comerciais, hora certa, sobretudo pregação expositiva da palavra de Deus
Show more
Rádio Trombetas reviews
Gilberto Bobbio

05.04.2022

Parabéns pela programação da rádio. É muito importante que a programação seja bem feita. Bons louvores, a palavra de Deus bem pregada. Que o se

Elias Dias Alves

17.12.2019

A paz do Senhor Pastor Samuel e Pastor Mario Souza, estou aqui ouvindo esta programação em Cachoeira de Pajeú-MG. no Vale do Jequitinhonha.

Adrielly Veloso

12.01.2019

Deus continue abençoando a todos que trabalham nessa rádio tão maravilhosa, estamos ligadinhos e sendo muito edificados para glória de DEUS!!!!!! Pastor Mário, Pr.Samuel um grande abraço da igreja ass. de DEUS de Aimorés.

Maria Fatima de Sousa

10.10.2017

A paz do Senhor pasto Mario . Prazer em ouvir essa rádio; com a graça de Deus estaremos em Imburi. Abraços Moises, Fatinha e Familia
Information about the radio
Somos um veículo, um instrumento, a disposição do nosso Senhor para levar a Palavra Revelada a todos que a queiram recebê-la (Atos 2:41). Fazemos isso através desse veículo chamado Rádio Trombetas, que não por um acaso tem esse nome. Assim como os arautos anunciavam ao povo, através de suas trombetas, que o rei estava chegando, nós estamos anunciando que o Rei da Glória, o Senhor Jesus, está voltando.
Radio contacts