Stand with Ukraine. Save peace in the world!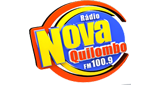 Rádio Nova Quilombo FM
A Rádio Nova Quilombo FM foi fundada em 6 de abril de 1986 no município de Palmares-PE. Reconhecida como uma das maiores emissoras do interior do Nordeste. Líder absoluta de audiência em mais de 50 municípios espalhados na mata sul, agreste, litoral de pernambuco e norte das alagoas. Seu sinal é amplamente difundido graças a equipamentos modernos e uma torre com 79 metros de altura. Com uma grade de 14 programas diferente a estação informa, diverte interage e premia. Permanece no ar 24 horas por dia durante os 365 dias do ano. A Rádio Que Te Faz Feliz!
Rádio Nova Quilombo FM reviews
essa é top ouvindo a melhor daqui de sao paulo chama a atenção

Top

Maria solange Bezerra

22.07.2020

A melhor da região

Jefferson Silva

31.03.2020

Olha top essa emissora nota10

Guilherme S Filho S Filho

09.03.2020

Muito bom, o som e de boa qualidade, ótima.

Tiago De Andrade Dos Santos Andrade

03.03.2020

E top nota 10

Valdeni Da silva

04.01.2020

Eu gosto muito

Rafa Sanfona Sanfona

23.12.2019

sou rafa sanfona

Sou David de toritama

Silá Mendes Mendes

28.10.2019

Amiga!!!essa radia nota 10pra todos que fazem parte radia❤️❤️❤️
Radio contacts
https://www.instagram.com/novaquilombofm/
https://www.youtube.com/channel/UC5wd6VLM7Bx-RuI7qe8QzKg