Stand with Ukraine. Save peace in the world!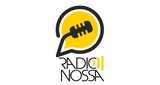 Nossa FM
Conceição das Alagoas, 87.9 MHz FM
A Rádio Nossa FM surgiu de um sonho de três jovens (na época) que tinham no sangue e na vida o rádio. Rildo Ramos, Claudio Silva e Adriano Tristão. Vamos tentar resumir aqui essa história e veja o que é o destino.
Nossa FM reviews
Sou Moradora a pouco tempo na cidade. Acessei a rádio Pq conheci uma sra hoje quando eu estava indo a bicicletaria colocar um tripé na bicicleta de meu filho, porém eu não sabia o lugar ao certo.ela foi muito gentil e mesmo cansada e com dor no joelho me acompanhou até lá na bicicletaria do pica pau. Agora vou passar a escutar a radio da cidade . Obrigada Sra Aparecida .

ABENÇOANDO VIDAS

19.05.2020

agradecemos o prefeito por ceder o parque de exposição para realizações do culto

Ótimo

Aparecida Oliveira

23.01.2020

Gostaria de fazer um apelo rildão...