Stand with Ukraine. Save peace in the world!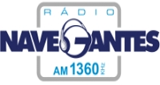 Rádio Navegantes
Porto Lucena, 1360 kHz AM
A Rádio Navegantes é uma estação de rádio brasileira com sede em Porto Lucena, RS. Opera na frequência 1360 kHz AM. Pertence ao Grupo Funave Comunicações.
Rádio Navegantes reviews
JAIR RAMOS SILVA, de Uruguaiana/RS, PROGRAMAÇÃO OTIMA, trabalhando no imposto de renda e escutado a Navegantes, um abraço aos parentes de Porto Lucena, Alfredo Schonewald, Thiago e seu Antoninho, Norberto e ao amigo Benette, saudades de todos e da terra.