Stand with Ukraine. Save peace in the world!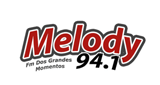 Melody Fm
Ribeirão Preto, 94.1 MHz FM
Melody FM tem foco nos maiores sucessos musicais do passado. Sua grade de programas inclui Na Pista Melody, PlayList Melody, Melody Golden Hits e Programação Melody 94.1.
Melody Fm reviews
Etelvino Nascimento

28.06.2022

boa tarde, exelente programação! variedades de ritmos , sou de Cardoso, sp...continuem assim..

10 amei

Edvar Luiz Neves

24.07.2020

nota 10 sou de AREADO SUL DE MINAS

rogerio tadeu Nogueira

17.04.2020

Sou aqui de Praia Grande e estou muito satisfeito com a programação. Parabens!!!!

JAIME ANTONIO LIMA

24.12.2019

FAZIA ALGUM TEMPO QUE NÃO OUVIA, MAS SOU FÃ DESDE QUE AINDA ERA A RADIO CIDADE, ISTO NOS ANOS 80.

ADRIANO GOMBIO

02.10.2019

A MELHOR DE TODAS AS RADIOS....~~.

J. Henrique Scaranaro - Jardinópolis - SP

28.04.2019

Excelente emissora, programação top.

Leonardo Vinicius

19.04.2019

Excelente! Januária, Minas Gerais, Brasil.

Top de Ribeirão Preto!