Stand with Ukraine. Save peace in the world!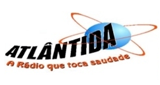 Atlântida FM
Rio de Janeiro, 101.7 MHz FM
A Atlântida FM, é uma emissora comandada pelo produtor e VJ Robson Castro, o grande criador do GOOD TIMES 98. A emissora oferece uma excelente programação, onde você encontra o melhor dos anos 70, 80 e 90.
Atlântida FM reviews
Marcos antonio Castro vilas

04.09.2023

MUITO BOA A RADIO EU ESTAVA ASSESANDO CLIIPS AO VIVO GORA NAO ESTOU MAS VENDO

Fernanda Müller

10.07.2023

O VJ que toca as melhores músicas! Dia 8 estavamos lá, e vc foi sensacional, como sempre! Continue transmitindo alegria, amor e marcando a vida das pessoas com boas músicas! Q os Deuses lhe abençoem, protejam e deem forças para vc superar as dificuldades!

Radio Atlantis

05.09.2022

Conheço desde que criada. Excelente.

Alexandre Castro

31.08.2022

Satisfação imensa em encontrar essa rádio, esse programa, esse locutor. Nascido em Nilópolis e criado em BH . Era ouvinte assíduo do Good Times BH FM, que infelizmente acabou a muito tempo. Mas estou aqui 😃

Vagner de Brito Santos Brito

29.04.2022

Rádio que toca as melhores músicas e nos faz lembrar dos melhores momentos da minha vida !!

David Da Costa

15.02.2022

Maravilhosa Rádio. Parabéns.

Sharon Ortiz y Busto

21.01.2022

amo vcs !!!!!!!

Vanclei Brandão

12.01.2022

Adoro essa rádio ,parabéns pelas sequências!!!

Muito bom

Essa Radio é top , sempre ouvia em Bonsucesso , Meier e chegou uns anos atras a captar o sinal no meu bairro de Vila Valqueire , hj ouço online , só toca musicao , Parabens Robson Castro .