Stand with Ukraine. Save peace in the world!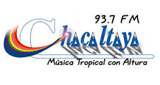 Radio Chacaltaya
Radio Chacaltaya 93.7 "Música Tropical con Altura"
Show more
Radio Chacaltaya reviews
Edwin Checchesito

01.06.2023

Buenas tardes saludos desde Usicayos - Peru

Fierucci Argote

17.11.2022

saludos desde españa, les saluda fernando silvana y jota

Hola saludos desde Cusco Perú .

Hola te escuchamos desde buenos aires argentina saludos ala familia llusco sucujayo

Mariana de la Noshe

18.06.2022

Muy buenas tardes Juan Carlos te saludo desde Arequipa Perú cleygeni saludos para Arely y la familia Aguilar Candia quiero pedirte una canción Fabiola de Llajtaymanta

Alejandra Paredes Benavides

25.12.2021

Hola radio chacaltaya que buena programación saludos para la familia Paredes Benavides en Arequipa Perú

Juan Gutierrez

04.11.2021

Hola radio, felicitarlos por la buena onda, un placer escucharlos, especialmente en la Noches , un abrazo.

Ismael Coca Gutiérrez

18.09.2021

Buenos días chacaltaya desde Sao Paulo Brasil está buena la música

Me gusta como conduce el chico Ricardo saludos desde México

Maudy Gandy Perez Pinto

30.07.2021

Hola buen día un saludo enorme a toda la hermosa ciudad Maravilla es una super radio. Por favor un saludo a Llallagua
Information about the radio
Radio que transmite programas musicales y secciones que nos traen el mejor entretenimiento en directo, con temas diversos y amenos, además de información relevante, en el 93.7 FM y a través de internet.
Radio contacts
https://www.youtube.com/channel/UCJxeZCGw_-8nyhajI68EEkQ