Stand with Ukraine. Save peace in the world!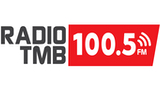 Radio TMB 100.5
Musiqi, xəbər və əyləncə proqramları olan 100.5 FM radiostansiyasını istənilən vaxt dinləyə bilərsiniz. Bizimlə qalın! Bura çox maraqlıdır!
Show more
Radio TMB 100.5 reviews
👍🏼👍🏼👍🏼🙏

Qəçəy mahnılar qoynda bayaq 1 2dənə gəlfi sora dayandı

Tarix Yazanlar ❤️❤️

Amerkadan salam 🙏👍🇺🇸🇹🇷🇦

Anar Abi Aydin

03.10.2023

👍👍👍👍👍

Nomre bir olan radio

Ceyhun Behbudov

16.06.2023

Hal hazırdakı yarışmanın şərtləri nədir bilən var?

👍⭐️

Feride Abdullayeva

26.04.2023

Çox sağolun Günel xanım , mən və ailəm sizin məsləhətinizlə doctorumuzu seçirik 🤗

Çok güzel bir radio azerbaycana geldiğimden beri favori radiom
Information about the radio
1998-ci ilin fevral ayının 14-də yaradılan 100.5 FM həmin ilin 25 iyununda ilk efirini yayımlayır.
Elə hər şey o gündən başlayır. Hal-hazırda televiziya və radiolarda çalışan neçə-neçə peşəkarlar ilk addımını məhz bu radioda atıb, bu radioda püxtələşib, bu radioda sevilib.
Yarandığı gündən indiyə qədər radiostansiyanin bütün verilişləri dinləyicilərin nəbzini tuta bilib. Ən son Azərbaycan və türk hitləri, unudalmayan mahnıları, qaynar xəbərləri, gündəlik müsabiqələri və dəyərli hədiyyələri ilə dinləyicilərinin əhvalını yüksəldən, verilişlərdə maraqlı mövzuları və peşəkar qonaqları ilə fərqlənən 100.5 FM 7 gün, 24 saat xidmətinizdədir.
Radio contacts
Time in Baku: ,