Stand with Ukraine. Save peace in the world!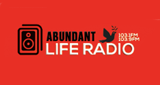 Abundant Life Radio
St John's, 103.1-103.9 MHz FM
The idea of radio has always been a desire of mine since I was a child. I have always wanted to become a journalist or a preacher. My love for broadcasting led me to begin a religious programme on several Christian radio stations. After marrying my wife Michal, I shared my desire with her and she was also excited about it. One Saturday I had a microphone that was borrowed from Brother Wesley Beazer to do my broadcast.
Abundant Life Radio reviews
Kacey Crossley

15.10.2021

This radio station just brightens my day, I listen to this station every single day for the past 3 years, the praise and worship music and the word is just great. I love abundant life radio. God bless

Aethiopia Salmon

03.03.2021

Love it!

I am truely blessed by this radio station. Your teachings keeps me grounded. Thanks