Stand with Ukraine. Save peace in the world!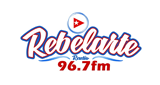 Rebelarte 96.7 FM
Medio de comunicación radial perteneciente a la Asociación Nacional Gerardo Pérez,con una programación fresca dirigida al Joven y Adulto contemporáneo.
Rebelarte 96.7 FM reviews
SALUDOS BUENAS TARDES, AMIGO SERA QUE ME PUEDES COMPLACER CON EL TEMA: QUISIERA VERTE EN RITMO RASPACANILLA, GRUPO JR DANIEL RODRIGUEZ, MI NOMBRE ES JHON LOPEZ EN ALI PRIMERA ZONA NORTE.

La mejor emisora, en sintonía desde chile, gracias por el saludo de mi padre Rigoberto son los mejores 🫂

Eliezer Chirinos

25.06.2023

excelente emisora en sintonia desde barranquilla Colombia

Verónica Hernández

03.06.2023

Saludos para Beatriz Escalante, Díganle que la amo infinitamente.

argenis perez mendoza

14.04.2023

Me ha sorprendido gratamente 😇, es está emisora. Muy agradable su programación. Y les felicitó a todos desde su director hasta él más modesto de sus empleados. Les ánimo ha seguir adelante con la mirada puesta en el éxito...

yonnatan colina

06.04.2023

Robert saludos desde cabudare agua viva.

Cálidad de emisora desde Bogotá me encanta la programación el chino edri. 👊

eddyluz jimenez

26.09.2022

Excelente

Jaime Trillos Caceres

11.08.2022

Regalame el numero de wassap de la emisora porfa para reportar si tonia desde ocaña colombia exele te emisira

Valentina Andueza

09.07.2022

Hola buenas tardes exelente emisora saludos, Para felicitar a mi hijo Jose luis martinez caseres en el caserio pozo salado que se encuentra de cumpleaños en el dia de hoy con la cancion de luis silva un feliz cumpleaños cristiano. Que el eterno les bendiga.