Stand with Ukraine. Save peace in the world!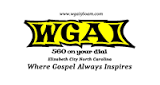 Gregory Gospel Radio
Elizabeth City, 560 kHz AM
Gregory Gospel Radio & WGAI 560 AM plays the best mix of Contemporary and Traditional Gospel Music heard anywhere! Radio Station WGAI AM is located in Elizabeth City, NC, near the Outer Banks.
Gregory Gospel Radio reviews
Sister KarminaAya - HO Brother Solomon - Raleigh, NC

23.07.2023

You all are funny and refreshing at the same time! Great show. 5 stars

Yah'ala Yanai Israel

21.05.2023

Love the show, great content !!

Love listening to these Men of God every Sunday . Bringing out the truth of the scriptures.

Excellent job Mr Rivers on education.

This is different hitting all points and bringing it out through the scriptures.

This Radio Show is 🔥🔥🔥 They are on point

The joy of the Lord is my strength and i must say I'm truly blessed and Joyful to hear these men teach! May God bless you!

Yes sir Very powerful and full of facts …MHNCB

Powerful, using only the word of God.

Please tune in every Sunday at 2 pm EST to learn the true Gospel !