Stand with Ukraine. Save peace in the world!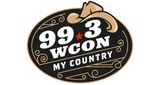 WCON 99.3 FM
WCON-FM (99.3 FM) is a radio station broadcasting a country music and Southern gospel format. Licensed to Cornelia, Georgia, United States, the station is currently owned by Habersham Broadcasting Co. and features programming from ABC Radio. WCON-FM also broadcasts games of the Habersham Central High School "Raiders", and Georgia Tech Yellow Jackets football.
Show more
WCON 99.3 FM reviews
Lucretia Sears

23.03.2021

need to get a new play list. tired of hearing the same songs over & over & over. it's like you are playing the same songs at the same time each day. gets tiresome very quickly

You play the same music every day at the same time. I love the old country, but you need to learn to mix it up more.

Theresa Richard

27.06.2020

So tired of hearing the same songs 5 and 6 times a day. The "music no one else plays" is played on seversal other stations. I've kept listening because I love listening to Billy and the others, but Kathy just did me in with her snide comment. I'll continue to listen on Sunday. N

I have listened to this station for years. I listened to hear real country music. Please add back some of the

Kaitlyn Caldwell

20.03.2020

I love this radio station BUT lately it has been playing terrible music! I want to hear the oldies. Not carry underwood or anything like that. I've heard Jesus take the wheel probably 5 times in the past 2 days.. I get up at 6am for work and all I hear is newer country instead of old.

I work from home, my background music is WCON in hopes of hearing the oldies. I tend to hear the same artist over and over each day, Tim, Faith, George Strait, Garth and Dwight will appear once in awhile. PLEASE play the good oldies like you all used to do on Saturday mornings. There are too many great old songs and it would be awesome to have a great mix all day. I am enjoying Joel in the morning and Cathy helping me finish out my day!~

Favorite radio station by far! Listening here from Grayson, GA!

Jerry Vandiver

23.12.2019

the addition of Joel Williams as well as music format have won us over. Love the new WCON.

Just want to say I love ur station when I can pick it up. Love the new format .

I honest love the music and everything about this radio station. I think they have improved a lot the past years. Even though they replaced Cathy the person Joel has a good sense of humor. I listen to this everyday when I go to school and I literally know the whole schedule and songs by now!! I love this Radio station and I hope they improve and make it better and better every year!!!
Information about the radio
WCON is well established in the North Georgia area, the AM station having been on the air since 1953. WCON-FM went on the air in 1965 as a Class A station and now has upgraded to a C-2 with 50,000 Watts of power. Coverage extends all over North Georgia, reaching into the metro Atlanta Area, and to Greenville, South Carolina, and equal distances in other directions. WCON-FM operates in stereo with 50,000 Watts on 99.3 megacycles. Our transmitter and 803-foot tower are located in White County about a mile from the Hall County line. Our new, modern studios and offices are at 540 North Main Street in downtown Cornelia. WCON-AM operates with 1,000 Watts of power at 1450 kilocycles. Our transmitter and tower are located at 1 Burrell Street in Cornelia, and studios are at 540 North Main Street. WCON-FM & AM are on the air 24 hours a day.
Radio contacts