Stand with Ukraine. Save peace in the world!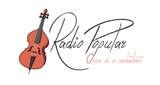 Radio Popular
La Radio Popular, după cum o spune și sloganul nostru, orice zi e sărbătoare. Postul de radio online Radio Popular transmite online, fiind fondat în 2007 și propunându-și să mențină vie tradiția românească și muzica autentică folclorică. Prin programele sale, Radio Popular își propune să aducă bună dispoziție și bucurie unui număr cât mai mare de ascultători de toate vârstele.
Radio Popular reviews
taranoilor!

E bun de tot radio popular. Lucin Popa, probabil esti constipat daca stai atata pe wc.

bun de pus la tara la wc

Bun

Olivier De Giuli

28.12.2020

the best of the best... pentru mine, Elvetian din Etiopia!

POSS PENTRU TARANOI !!!

borislav bankov (bobi)

10.08.2020

super radio

bun de tot

Александр Марков

15.05.2020

!! :-)

absolute jams.