Stand with Ukraine. Save peace in the world!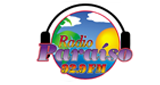 Radio Paraíso
WTPM (92.9 FM) es una estación de radiodifusión un formato religioso. Licenciado a Aguadilla, Puerto Rico, EE.UU., que sirve el área de Puerto Rico. La estación es actualmente propiedad de Corp. de los adventistas del séptimo día de West Pr.
Radio Paraíso reviews
Laurie Jiménez

02.06.2023

Luz Cruz usted puede escuchar la emisora no tiene nisiquiera tienes que bajar aplicacion de Radio Paraíso sino que vas a Google y buscas radios dd Puerto Rico uno dice Radio Box te sale esta y muchas mas radio emisoras.

Digna Williams

25.03.2023

Excelente

David E. Carrero-Crespo

11.03.2023

Buena musica

Siempre oymos los mensajes y predicaciones de la emisora. Dios continue bendisiendolos con todo lo que ustedes hacen.

DIOS LOS BENDIGA MUCHO

Neftali Fuentes

27.09.2022

Amen Amen !!!!Orando

Hermoso mensaje en esta mañana!!

Muy buena me gusta mucho.

Me levanto con ella, es una lástima que no pueda entrar a escucharla atra vez de la aplicación era la manera para escucharla más rápido, ahora la tengo q buscar por google. La App no está funcionando. Gracias le doy por enseñarnos la palabra 🙏🏾.

Hace años escuche una canción en ella y no la he podido encontrar en ninguna parte, tal vez me puedan ayudar, la letra dice: alabale por la naturaleza y a Dios agradece porque a tu lado está...