Apoie a Ucrânia. Salve a paz no mundo!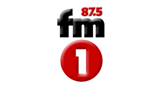 Republ1ka FM1
The Radio Republic of the Youth — on the airwaves at 87.5.
Estações de rádio relacionadas
Republ1ka FM1 avaliações
ResortToonKids&KPOPs Channel

07.09.2023

Can I listen to play MOVE (T5) by TREASURE? Thanks!

Listening from Masbate. I used to listen to this station back when i was in college. My commute to and from school was spent listening to fm1. Now that I'm living in the province, whenever I listen to this stream, i feel like I'm in college again in Manila. That "Republika ng Pilipinas" is very nostalgic.

Listening from Borongan City <3

Christian John Bernardo

04.06.2022

republika fm1 manila, philippines

Juga Juga Jungle by Girls²

I've been listening to your station almost everyday. Can you play Billboard 2020 kpop song of the year LADIDA by EVERGLOW thank you!

Maria Teresita Briones

11.02.2022

I have been listening from home because I am on my 6th day quarantine. There is a lady who render the news and read it too fast, though of course she has undoubtedly one hundred percent perfect English, but I can't follow what she was saying, as if somebody is running after her! I hope she will read the news slowly and clearly, Thanks!

I was on my way to the vaccination center on a Grabcar at around 7am and 0X1=LOVESONG by TOMORROW X TOGETHER came on the radio. I'm not sure if this is the right FM radio but it says 87. 5 on the car sterio 😭

Request ko po na song ay I Write Sins Not Tragedies by Panic! At The Disco para maka headbang ako sa rock listening from USA

Lynette Pascual

19.06.2021

My favorite radio when driving. Mayni know the title of a song and the singer, a ballad am sure sung by a male black singer. It has limited lyrics and has a haunting and sad music. Been searching it on Spotify but no luck. Love song/ballad. Thanks and more power!