Stand with Ukraine. Save peace in the world!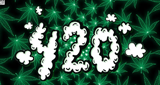 George FM 420
Success! With the reefarendum this year, George FM have managed to create the ultimate playlist for marijuana-related tunes! From Snoop Dogg to Bob Marley, Fat Freddy's to KORA! We've got you covered! Listen on rova NOW!
George FM 420 reviews
The sentence "this is a New Zealand exclusive" going to get true, Normally I am listening to Mixcloud content, and I love Liquid Lowdown with Chiccorelly, and I found this website..