Stand with Ukraine. Save peace in the world!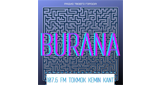 Radio Burana 107.6 Fm Токмок
У нас в эфире - только самые лучшие хиты русской, зарубежной и киргизской музыки! Слушайте нас на частоте 107.6 FM в городах: Токмок, Кемин, Кант Радио Бурана - это музыкально-развлекательная FM-радиостанция, которая вещает в городе Токмок. Наша философия заключается в том, чтобы чтить музыкальные традиции Киргизии, при этом, быть открытыми к прогрессивному будущему. Мы чувствуем пульс нашего города и предлагаем в эфире лучшую киргизскую, русскую а также зарубежную музыку и интересную информацию!
Radio Burana 107.6 Fm Токмок reviews