Stand with Ukraine. Save peace in the world!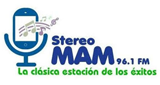 Stereo Mam
Huehuetenango, 96.1 MHz FM
Desde La Tierra De Los Imponentes Montes Cuchumatanes, Cuna De La Cultura Mam Huehuetenango, transmite Stereo Mam 96.1 Fm, La Clásica Estación de los Éxitos. Es la primera Radio del departamento en frecuencia modulada a la fecha, es la emisora de mayor prestigio en Huehuetenango debido a su gran trayectoria, amplia experiencia de su personal y una programación que presenta las canciones que han hecho historia, pero ante todo la identidad de la audiencia a una emisora de tradición en el Occidente del País.
Radio contacts
Fax 77646807