Stand with Ukraine. Save peace in the world!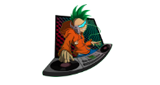 Radiodj Mix
Escucha Radiodj Mix con un buen repertorio de mix de musica Electronica, Clasica, reggaeton,pop, banda,rock,corridos y mucho mas.
Radiodj Mix reviews
edgargiovany orozcotay

22.07.2021

Mezclen algo de música disco gracias

Agrguen esta emisora a Tunel in apk. Es muy buena emisora y ni esta en en el repertorio de Tunel in app.