Stand with Ukraine. Save peace in the world!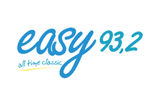 Easy FM
Οι μεγαλύτερες επιτυχίες απο τα 80's - 90's και το σήμερα!
Show more
Easy FM reviews
Musique magnifique

Poland Jasło. Wonderful!!!!!

Hugzefj | Lovermore (Taylor's Version)

06.07.2022

Never played Taylor Swift, flop radio, no music taste ☠️

Damian Buchalski

28.06.2022

Great station, relaxing music, we were in Crete and we listened almost constantly, after returning to Poland, we continued to listen on the Internet.

Just great music.

Angelo Voulgaris

12.09.2020

easyFm rocks - Melbourne Australia

Gamaei kai dernei o stathmos! The station fucks and beats!

BOURGOGNE OCCASION

01.12.2019

Super radio découverte par hasard en vacances. Un programme varié et très peu de publicité. Ma favorite. Ne changez rien !

Päivi Parkkinen

18.11.2018

What's the beautiful french song you played today at 13.20 around? A woman singing monamour?

Andreas Forberger

04.09.2018

Ich bin auch Hin- und Wech. Easy FM auf der National road und entlang der zahlreichen Serpentinen nach Chora Sfakion und Aradena. Die Musik passt einfach immer.
Information about the radio
Ο EASY FM μεταδίδει 24 ώρες το 24ωρο επιλεγμένη ξένη μουσική με όλες τις αγαπημένες επιτυχίες από 80's , 90's έως και σήμερα , με το σλόγκαν : All time classic ! Από την πρώτη ημέρα λειτουργίας αγαπήθηκε από το κοινό και τον έφερε στις πρώτες θέσεις ακρόασης στον νομό Χανίων. Οι διαφημίσεις που μεταδίδει ο EASY FM είναι επιλεγμένες με διάρκεια έως 25'' και έως 3 spot ανά ημίωρο. Με αυτό τον τρόπο η διαφήμιση αποδίδει στο μέγιστο βαθμό , χωρίς να αλλοιώνεται το μουσικό πρόγραμμα του σταθμού.
Radio contacts