Stand with Ukraine. Save peace in the world!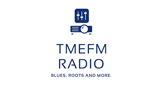 TME.fm Radio
TMEfm streams from my little studio In Altea, Spain to the world! If only all of the world listened and donated, TMEfm is a non-profit radio. No talking, all music because no one would understand my accent and not everybody understands English even though they listen to "English language music"
Show more
TOP songs on TME.fm Radio
TME.fm Radio reviews
Dwayne McCullough

08.05.2023

Thank you for playing our song, Rivertown - Out there Somewhere. We appreciate that so much :-)

The Metal Byrds

08.05.2023

Fantastic Music 🎶 🤘

Great selection of artists! Happy that you are sharing our music in Spain. Tom Walters and Nicole Cassingham of THE TAPROOTS

StratcatWillie Hayes

20.06.2022

Thank you so much for spinning our cd, ON A HOT TIN ROOF, by StratCat Willie & the Strays… AND FOR SUPPORTING THE BLUES!

Thank you for playing Boneyard by The Fiction, who knew an alt rock band from Shetland would end being played on Spanish Radio! Love what you're doing, all the best! feel free to have a look

Crooked Eye Tommy Marsh

12.01.2021

Thank you guys so very much for your ongoing support of Crooked Eye Tommy and our new album. We are eternally grateful for the airplay. Wishing you continued success in all of your endeavors.

Joselyn Wilkinson

20.10.2020

Love your playlist! Thank you for playing new music from Joselyn & Don!

Beth Reid-Grigsby

16.08.2020

Wow! Detroit Blues is a top song! Thank you from Red's Blues!

Klasse musik

I love listening, never know what's next. You know it will be good though
Information about the radio
The station plays Americana, country, folk, blues, bluegrass and roots, an eclectic schedule that is peppered with some of my favorite songs from years past.

At TMEfm you can "Listen 2 the music you didn't know you wanted 2 listen 2" , 24/7 @ 320 kbps.
Radio contacts