Stand with Ukraine. Save peace in the world!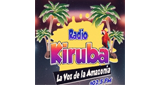 Radio Kiruba 102.5 FM
Radio Kiruba 102.5 FM, una emisora de la Organización Shuar del Ecuador OSHE, hecha por y para el pueblo. Somos reconocidos por estar al servicio de la colectividad de la provincia de Morona Santiago. Con programas de interés social, noticias locales, nacionales e información internacional, transmitidas en tres idiomas, Shuar, Kichwa y habla hispana. Contamos con espacios repletos de lo mejor en música actual y nacional, además, de un programa intercultural en el idioma Shuar, dados en las madrugadas de 04:00 am a 07:00 am y en las tardes de 17:00 pm a 20:00 pm.
Radio Kiruba 102.5 FM reviews
Carlitos Sandu

06.08.2021

Buenos saludos en macaa para familia Sandu en jimbitono de parte carlos desde quito el sabado estare x haya buena progracion

SALUDOS CORDIALES DESDE LOGROÑO

buena musica saludos desde quito