Stand with Ukraine. Save peace in the world!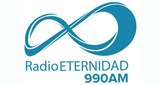 Radio Eternidad
Santo Domingo Oeste, 990 kHz AM
RADIO ETERNIDAD es un ministerio radial que busca ante todo la gloria y honra de Dios, el bien de su pueblo, ofreciendo una variada y edificante programación de alcance mundial.
Radio Eternidad reviews
Bendiciones . desde San Pedro de Macorís

Holai.:los saludamos desde Neuquén Argentina .estamos agradecidos a Dios y felices con su sintonía Radio Eternidad..

Maricarmen Balseca

19.08.2022

BENDICIONES Amados Siervos , me siento bendecida por este medio de gran ayuda espiritual y fisica mis oidos ,corazon y cerebro estan mas hermosos que nunca dejandose someter a la cirugia de la PALABRA DEL SOBERANO GRANDIOSO REYde REYES , Que Nuestro Padre GLORIOSO les siga dando fortaleza sabiduria , proteccion ,perseverancia y amor mezclado con paciencia genuina siempre y por siempre, Hermosa herramienta sois en las manos del QUE VIVE Y REINA POR LOS SIGLOS de los SIGLOS JESUCRISTO REY , me despido con el agrado de seguirlos escuchando desde Rubi -Barcelona

Buenas tardes pastor Félix lo saludo desde buenos aires argentina, y también saludos a todos los que sintoniza la radios eternidad.

Bendice alma mía al Señor!! bendiciones hermanos desde Mercedes Corrientes Argentina!!!

Mi compañia perfecta en casa

Jairo andres Fagundez

14.06.2020

por pura gracia, es la emisora mas bíblica que he oído; estoy todos los días colocando esta emisora desde Venezuela estado Apuro.

Patricia de la Rosa

22.03.2020

Dios sigue siendo bueno, adelante con esa exelente programación.

Ligia Medina.

me encantan las enseñanzas y la musica. Deseo saber nombres de grupos musicales que pasan en esta hermosa Emisora.