Stand with Ukraine. Save peace in the world!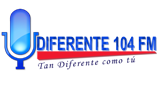 Diferente 104 FM
Santa Cruz de Barahona, 104.5 MHz FM
Diferente 104 es una estacion digital q transmite las 24 horas el mejor contenido musical, noticioso y de entretenimiento, transmite desde Barahona Republica Dominicana para todo el mundo, dirigida por Luis Manuel Baez Aria y programada por DJ Gordillo, somos la mejor compañia para tus Oidos.
Diferente 104 FM reviews
que buena musica, adelante, saludos.

Yohanna Isabel Feliz Mato

26.07.2023

muy buena música en esta emisora, bendicione

DIFERENTE 104 ONLINE

18.10.2022

Espere nuestro lanzamiento Oficial de nuestra programación navideña "La Rumba Navideña" este jueves 20 de octubre, por la emisora moderna de Barahona Diferente 104 FM, tan diferente como tú.

Tito J Junior Animador

08.07.2022

Con el mejor sonido y buena programación Diferente 104

Seguimos indetenibles en.... "navidad Diferente con Sabor Navideño"

Glasibel Manuela Baez Gonzalez

10.12.2021

Feliz navidad y un prospero año nuevo a todos nuestros oyentes.

Miguel Angel Matos Feliz

03.11.2021

la mejor programación, esta emisora va palante, dios bendiga a su director Luis Manuel Baez, la mejor programación navideña, muchas Felicidades.

Venecia Feliz Feliz

30.10.2021

Felicides por esta emisora, felicidades a su director Luis Manuel Baez, muy buena musica, gracias por alegrarnos con su programacion sabor navideño. exitos hermano.

la mejor programacion, excelente, muchas felicidades para su director Luis Manuel Baez, los invito a que n o se despeguen de esta radio, un avance para barahona

Deivi Alexander Baez A.

27.10.2021

La mejor selección musical, buen sonido, muchas felicidades.