Stand with Ukraine. Save peace in the world!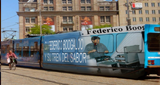 La Salsa Del Tren Del Sabor
I Will Play Salsa, Son, Chachachá., Mambo, Gauaguancó, Plena, Bomba, Pachanga, Charanga, Changûi, Descarga, Boogaloo, Shing A Ling,Jala Jala, Latin Jazz, Rumba, Guaracha, Guajira Son, Son Montuno, Sucu Sucu, Bembé, Bolero, Songo. Como dj. de Salsa y Musica Latina tengo una experiencia de varios años en este ambito, como programador y dj profesional local y en la web. we play Salsa radio and Latin Jazz radio.
TOP songs on La Salsa Del Tren Del Sabor
La Salsa Del Tren Del Sabor reviews
Mit bueno

Roberto Romero

21.12.2019

Felicitaciones por el programa desde colombia Palmira

MARIO FERNANDO VELASQUEZ CAICEDO

14.11.2019

, Me gusta su programación. Parece que estuviera en Cali BOGOTÁ, O EN LA MISMISIMA PASTO, LA CIUDAD SORPRESA QUE ME VIO NACER CRIAR ESTUDIAR... ACTUALMENTE TRABAJO EN SIBERIA ORITO PUTUMAYO. LOS ESCUCHO A TRAVES DEL REAL AUDIO ON LINE RADIO BOX. ME SIENTO FELIZ ESCUCHANDOLOS. HOY CASUALMENTE SUPE DE SU EXISTENCIA. SALUDOS DESDE COLOMBIA. CON TODO CARIÑO Y APRECIO QUE LUCHAMOS POR UNA COLOMBIA MEJOR.

Esneyder Morata

28.09.2019

con MAYUSCULA EXPECTACULAR solo para gente que comprende la musica ya que esta tiene ALEGRIA solo salas y sabor