Stand with Ukraine. Save peace in the world!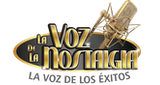 La voz de la Nostalgia
LA VOZ DE NOSTALGIA es una emisora de radio hablada para adultos, con noticias, entretenimiento y programación musical de todos los géneros de impacto.
Show more
La voz de la Nostalgia reviews
Buena musica

Exelente.

Excelente programa, Juan fe gracias x tus recomendaciones Dios y tu un abarzoo🤗

buena radio

NOE DE JESUS MORALES VELEZ

24.05.2021

SUPER MUSICA, EXELENTE PROGRAMACION, LASTIMA QUE ESTA IMAGEN LA EMPAÑE UN PERSONAJE TAN PETULANTE, ENGREIDO, MALEDUCADO, IRRESPETUOSO, GROSERO, INTOLERANTE COMO ES ESE TAL FITOFELIPE, SERA QUE ESTA PICHURRIA SI ESTUDIO ALGUITO? POR QUE NO PARECE QUE PASO POR UNA ESCUELA.

Fabian Cordoba

11.05.2021

Saludos desde Popayán cauca escuchándolos por primera vez.

Amparo Ramirez Giraldo

03.04.2021

Eres grosero, prepotente, soberbio. Me retire, de consumir productos y consejos, por lo anotado. Dios se apiade de tu prepotencia, porqué, tienes dinero, por los de a pie, que confirmaron en su cuento, pero nada que ver, con tus beneficios. Suerte con tanta falsedad. Y porfa, más humildad, ya tienes lo suficiente para ti y tu gente.

Tatiana Giraldo

05.01.2021

La emisora tiene programas muy buenos, no se quien es Don Felipe en esa emisora o parte de que, si es dueño o eso, o sea se que presenta el programa pero el si debe tener un poco mas de paciencia y tolerancia, no todos los seres humanos tienen la misma capacidad de entendimiento, y eso, otros se pueden bloquear al saber que están al aire y es entendible que se llama mucho a la emisora pero no es el hecho que Don Felipe sea tan tan demasiado grosero, es un insolente, mal educado y parece un patán.... reevaluar esto para que no pierdan oyentes... pero reitero una emisora en la música super¡

Don Felipe Tobón es muy grosero y irespetuoso disque colgar las llamadas, bien difícil que es uno comunicarse al programa.

Miryam Alvarez Sanchez

19.11.2020

ES LA MEJOR EMISORA QUE HE PODIDO ESCUCHAR SOBRE TODO POR EL PROGRAMA DE SALUD QUE TIENE JUAN FELIPE TOBON
Information about the radio
1080 AM LA VOZ DE LA NOSTALGIA es una frecuencia que nace el 1 de julio de 2012 con la CADENA RADIAL JÚPITER, para traer a la memoria de los antioqueños la radio que marcó toda una generación y a quienes sembraron las bases de una raza pujante y soñadora como la paisa.

Es así, como después de rescatar lo que para muchos no tenía ningún valor, un grupo de visionarios traen al siglo XXl, el talento que hizo grande la radio de Medellín y Antioquia con una exquisita programación musical en versiones originales, como pilar fundamental 24 horas al día, 365 días al año.
Radio contacts