Stand with Ukraine. Save peace in the world!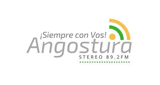 Angostura Estéreo
Somos la radio publica del Norte Antioqueño, con la visión de entretener he informar y mantener en contexto radial a nuestros oyentes...
Angostura Estéreo reviews
Carolina Estrada

01.08.2021

Maravillosa eucaristía muchas gracias Dios los bendiga

Hola, buenos días, me saludos la familia orozco Arroyave en tenche viejo, de parte de Duban Orozco. Desde Medellín 🙏 Muchas gracias.

Eliana Rojo Ayala

08.06.2021

La emisora se escucha super bien

Me encanta la emisora angostura estéreo no la única pero si la mejor de todas feliz día

Alexandra Lujan

12.11.2020

felicitaciones para el locutor, Fernando excelente voz muy amable

margarita alzate

23.10.2020

Bn días para que me hagas el favor de ponerme en este bar de jhon castillo y nos entierren gustos del grupo miramar para saludar la familia alzate pareja en la calle abajo muchas gracias

Buenos días quisiera enviar un saludo muy especial a Judit restrepo en la vereda Santa Ana para felicitarla por su cumpleaños que Dios me la bendiga siempre. Que sus hijos la amamos con todo el alma

Muy buena emisora en música e información además que me acerca a mi familia me hace sentir como en casa aún estando lejos

Cristian Quiroz

03.09.2020

Buenas tardes soy cristian Quiroz desde el departamento del choco para mandarle un saludo a toda mi familia en la vereda la milagrosa muchas gracias

yeraldin orrego

15.06.2020

Buenas tardes me hace un favor me saludan a leyda Zea y Yessica Martinez desde ENTRERRIOS.