Stand with Ukraine. Save peace in the world!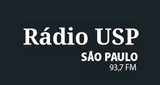 Rádio USP
A Rádio USP é um canal de comunicação entre a Universidade de São Paulo e a sociedade. A Rádio USP está no ar desde 1977 e pertence à Universidade de São Paulo. Sua emissão engloba conteúdos jornalísticos referentes às atividades da Universidade e também programação musical variada (jazz, samba, rock, música clássica e blues, por exemplo).
Show more
Information about the radio
Mantém uma programação jornalística voltada à divulgação das atividades da Universidade, debates e prestação de serviços.
Em 2000 recebeu o prêmio de melhor programação musical, pela Associação Paulista dos Críticos de Arte.
No dia 25 de dezembro de 2004, integra-se à rede a Rádio USP Ribeirão na frequência de 107.9 MHz, com quatro horas de programação local.
Em 2008, desativou-se a USP FM São Carlos que funcionava desde 1982, por término de contrato com a Prefeitura de São Carlos, e seu prefixo 102.1 MHz foi devolvido a Prefeitura, que renomeou a para Universitária FM.
O professor João Grandino Rodas tomou posse como reitor em 25 de janeiro de 2010 e promoveu mudanças significativas em todo os veículos de comunicação da Universidade de São Paulo, incluindo a Rádio USP.
Radio contacts
https://www.facebook.com/Programa-VIRA-E-MEXE-Radio-USP-937-FM-109891389172881/