Stand with Ukraine. Save peace in the world!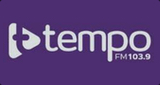 Tempo FM
Localizada em Fortaleza, Ceará, a Tempo Fm está há mais de 20 anos no ar. Sua emissão é dirigida a ouvintes adulto, qualificados e com grande poder aquisitivo. Esta posição foi definida desde o princípio por Jaime Azulai, sócio da emissora.
Show more
Tempo FM reviews
fernando rodrigues

24.01.2022

wow tremenda radio 100 % romantica saludos desde caracas venezuela

Erivando Bernardo

24.05.2020

Radio 100 cometários 100%.

Rodrigues Guerreiro

05.07.2019

Excelente Rádio !

Isabel Cristina Pinho

12.04.2019

amo a fm tempo desde o inicio

Ana Lídia Maia

28.01.2019

Amo de paixão, o mesmo tempo que tenho de casada, ouço a rádio... Alice Maia, manda um alô pra mim !
Information about the radio
A Tempo FM é uma rádio contemporânea, com programação leve e sofisticada. Operando dentro do mesmo segmento desde 1988, é hoje uma das marcas mais respeitadas no mercado publicitário cearense. É líder no ranking de audiência de rádios FM de perfil adulto.
Liderada por Carmen Lucia Dummar, a Tempo FM já foi escolhida a melhor FM do Ceará em 10 edições do prêmio 'Destaque Empresarial'. Como uma rádio de profissionais da comunicação, o produto caracterizou-se pela mais alta qualidade de sua programação, mantendo altos níveis de satisfação em seus ouvintes, anunciantes e profissionais que dela participam.
Nosso objetivo é levar entretenimento e informação para ouvintes que buscam qualidade e retorno para anunciantes que acreditam nas nossas ideias.
Radio contacts
www.instagram.com/tempofm1039/