Stand with Ukraine. Save peace in the world!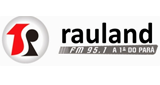 Rádio Rauland
Nos anos 40, um homem de dom genuíno – Sr. Raul dos Santos Ferreira (in memorian) – com sua dedicação, perseverança e inovação, passou a escrever as primeiras páginas da história da comunicação no estado do Pará. De origem muito humilde, repassava os valores da dignidade, dos bons costumes, à moda antiga, aos seus filhos e descendentes. De personalidade forte e conservadora, regada a rígidos princípios morais e éticos. De certo, pilares da credibilidade que transmitia, a quem o conhecia, e que hoje reflete-se na filosofia da Rádio Rauland FM e um dos principais pilares de seu absoluto sucesso.
Rádio Rauland reviews
curtindo do RJ

Geraldo Mendes

20.12.2022

Sempre estou ligado na Rauland FM a melhor emissora de rádio do estado do pará. GERALDO MENDES, AUTO PEÇAS AVENIDA

Clenilson Moraes CR

22.03.2021

Indiscutível a melhor de belém!! primeiríssimo lugar no ibope..!!! Eu sou um ouvinte assíduo: " nilson da terra firme, belém

Rauland simplesmente a melhor!

A Melhor rádio de Belém, demais!
Radio contacts
https://www.instagram.com/rauland951fm/